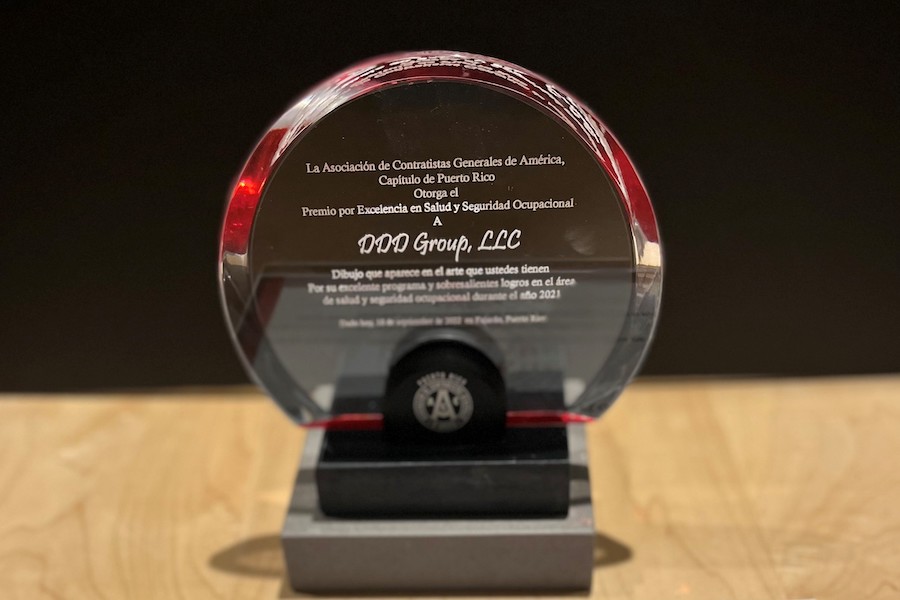 22 Sep

DDD Recognized at AGC-PR Annual Convention

At their 2022 Annual Convention, the Association of General Contractors, Puerto Rico Chapter (AGC-PR) recently awarded DDD Group for its Excellent Programming and Outstanding Achievements in Health and Occupational Safety for 2021. As an industry leader in design and construction, DDD is proud to be counted among the top firms in Puerto Rico, as stated by the foremost construction association in Puerto Rico and the US.

"For our team, to be distinguished for Occupational Health and Safety is an honor, and speaks directly to our commitment to fostering a team-oriented culture, where our people are really our most valuable resource," explains DDD Principal Umberto Donato. "It's not only our legal responsibility but also our ethical obligation to ensure that all members of our team are able to work in a safe environment, and a comfortable place where they can do fulfilling, technically competent work, with peace of mind. It takes a true team effort, especially in demanding times where workplace health and safety conditions were compromised for two years during the pandemic, but environmental wellness and hazard mitigation is possible with focused work."

In addition to being recognized as a team, several of our associates were also individually honored for their contributions. Among the qualifications that make them stand out is their seniority and progress within the organization,  community involvement, punctuality and responsibility with their tasks, and the transfer of their expertise to children within the construction industry. For DDD the following were selected:
Jacinto Galib Award for Excellence in Occupational Health and Safety Project Management: Wilmarie Ortiz
Safety & Security Supervisors: Wilfredo Fontanez, Anthony Peña & Kelvin Roque

Laborer Safety : José Roque & Norberto Pizarro
The Convention was held from September 8th through the 11th at the Conquistador Resort In Puerto Rico. For more than 50 years, AGC-PR has been the leading association of companies in the Construction Industry committed to the values ​​of skill, integrity, and responsibility. The organization brings together more than 350 companies – general contractors, subcontractors, specialized contractors, and suppliers of materials and services – and over 30 thousand construction employees.