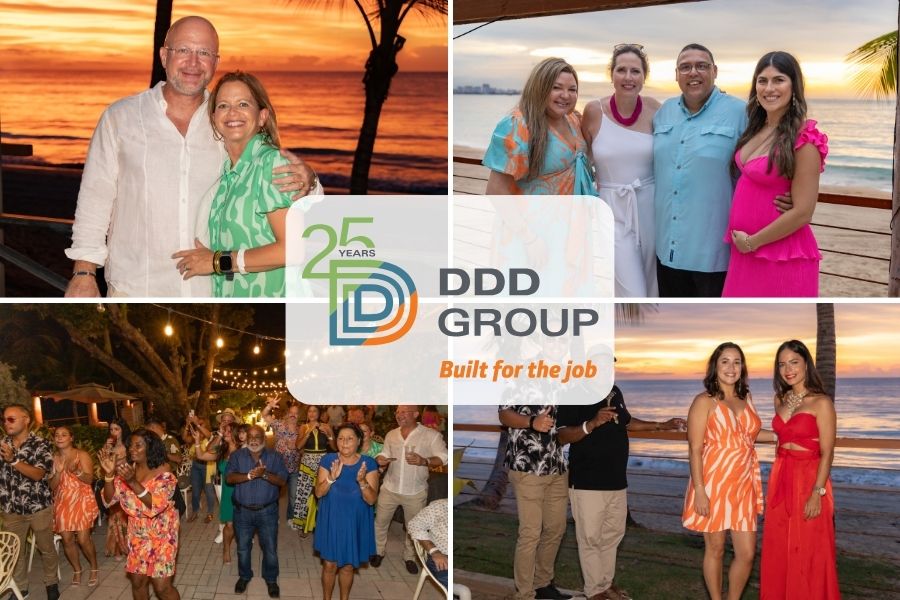 29 Sep

DDD Group's 25th Anniversary Bash: A Night to Remember

The sun dipped below the horizon, painting the sky in vivid hues of orange and pink, casting a warm, golden glow over the seaside locale of Vivo Beach Club in Carolina. It was the perfect backdrop for an evening of celebration as DDD Group marked its remarkable 25-year journey. The warm air was enriched with laughter, music, and the unmistakable spirit of camaraderie.

On this memorable afternoon, the DDD team and their families and dear friends gathered at Vivo Beach Club to commemorate a quarter-century of excellence. The celebration was spectacular, featuring various activities and entertainment that left everyone with cherished memories.

Piragua Premiá started off the event by offering a delightful taste of Puerto Rican tradition with a twist. The party was animated with the live musical sensations of Zona Cero, setting the stage for a night of dancing and fun. A 360-degree photo booth by JF Nova Events added extra fun to the festivities, allowing guests to capture their joyous moments in a unique and immersive way.

Before officially unveiling the DDD 25th anniversary video, President Umberto Donato took a moment to express his gratitude and appreciation. He shared heartfelt words with his staff, highlighting the invaluable contributions of his closest team members. In particular, Vice President Roger Ambroise was recognized for his unwavering dedication and commitment to the company's success.The setting sun painted the sky in breathtaking colors as the video played, creating a mesmerizing backdrop for this significant moment in DDD's history.

The celebration continued with special surprises in the form of a mariachi band and even a rendition of "Bad Bunny," adding unexpected twists to the evening's entertainment. This anniversary celebration was a testament to the deep camaraderie that defines the DDD team. It underscored what truly sets them apart: their unwavering commitment to teamwork, trust, and excellence. As the night drew to a close, the sentiment was clear – they couldn't wait to embark on the journey of the next 25 years.

DDD Group extends its heartfelt thanks to all those who joined them in celebrating this momentous occasion. Your presence made this milestone all the more special. Here's to 25 more years of success, growth, and unforgettable moments. Cheers to DDD Group and the bright future ahead!