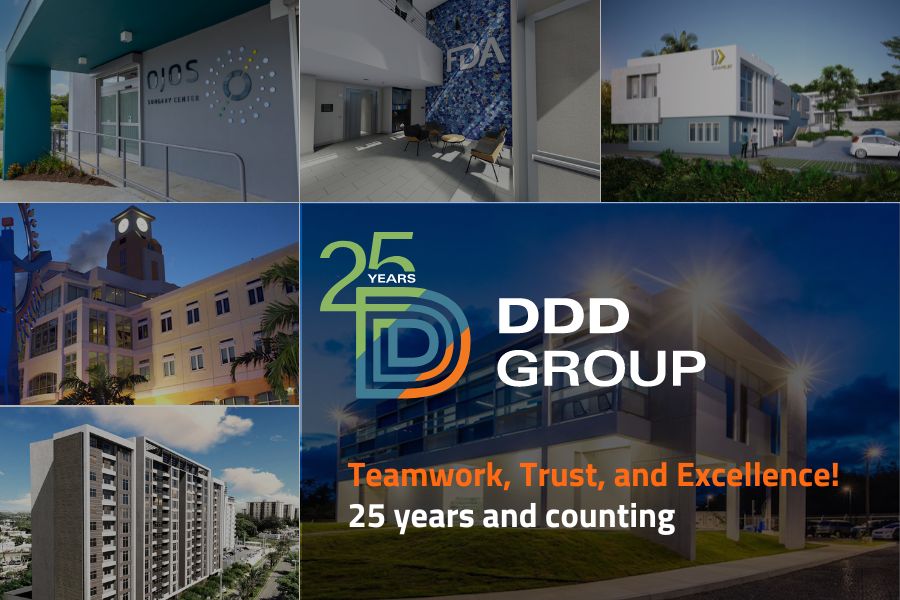 28 Aug

Celebrating 25 Years of Excellence: Our Remarkable Journey at DDD Group

In the dynamic world of design and construction, longevity is a testament to not just survival, but to resilient companies that never stop thriving and evolving. As we proudly celebrate our 25th anniversary at DDD Group, we reflect on our remarkable journey as a leading design-build firm based in Puerto Rico. With our commitment to constructability, a technology-first approach, and a thriving team culture, DDD Group has set itself apart as an industry trailblazer. "It's a moment of immense pride and gratitude as we mark this significant milestone in our journey," remarks Umberto Donato, the visionary founder and president of DDD Group. From our inception, DDD Group aimed not just to build structures, but to craft experiences that intertwine functionality with aesthetics. Over the years, we have left an indelible mark on Puerto Rico's landscape, enhancing the lives of its people through innovative designs and resilient construction.
Constructing Dreams: Our DDD Approach to Constructability
A key differentiator for us at DDD Group has been our unwavering commitment to constructability. Alexandra Wirshing, our Director of Architecture and Design, emphasizes, "At DDD, we believe that the best designs are the ones that can be brought to life seamlessly. Our architects and engineers work hand-in-hand from the conceptual stage, ensuring that creativity is grounded in the practicalities of construction." This approach not only expedites the building process but also minimizes potential challenges, resulting in structures that stand the test of time. From groundbreaking commercial spaces to innovative residential complexes, our portfolio exemplifies our constructability-focused philosophy. Our ability to harmonize design aspirations with construction realities has earned us a reputation for delivering projects on time and within budget, a testament to our dedication to client satisfaction.
Pioneering with Technology: A Glimpse into Our Future
As the industry evolves, embracing technology is not a choice, but a necessity. We at DDD Group have consistently stayed ahead of the curve by adopting a technology-first approach. "Innovation is in our DNA," asserts Roger Ambroise, our VP of Operations. "From Building Information Modeling (BIM) to advanced project management software, we harness technology to streamline our processes, enhance communication, and facilitate informed decision-making." This forward-thinking attitude is evident in our work, with our projects being characterized by precision, efficiency, and sustainability. The integration of technology not only empowers our team but also ensures that clients are provided with accurate visualizations, real-time progress updates, and a transparent view of the project's trajectory.
Cultivating Excellence: The Power of Our Team Collaboration
Behind every successful project lies a dedicated and cohesive team. We take immense pride in fostering a team culture at DDD Group that values collaboration, diversity, and continuous learning. Umberto Donato reflects on this, saying, "Our team is our greatest asset. Over the years, we have nurtured a work environment where each individual's talents are acknowledged and harnessed for the collective advancement of our goals." Alexandra Wirshing echoes this sentiment, emphasizing how our culture of mutual respect and open communication fuels creativity and innovation. "When you work alongside colleagues who inspire and challenge you, the possibilities are endless," she states.
25 Years of Milestones: Looking Back, Looking Ahead
As we commemorate 25 years of architectural and construction excellence at DDD Group, we also look forward to the road ahead. Reflecting on the journey, Umberto Donato remarks, *"The past 25 years have been a testament to our resilience and passion. As we step into the future, we remain committed to pushing boundaries, embracing new technologies, and crafting spaces that inspire." With an impressive legacy of iconic structures and a reputation for integrity, quality, and innovation, DDD Group stands poised to redefine the future of design and construction. Roger Ambroise shares, "Our journey has been incredible, but the best is yet to come. We are excited to continue building on our strengths and exploring new avenues, all while staying true to our core values."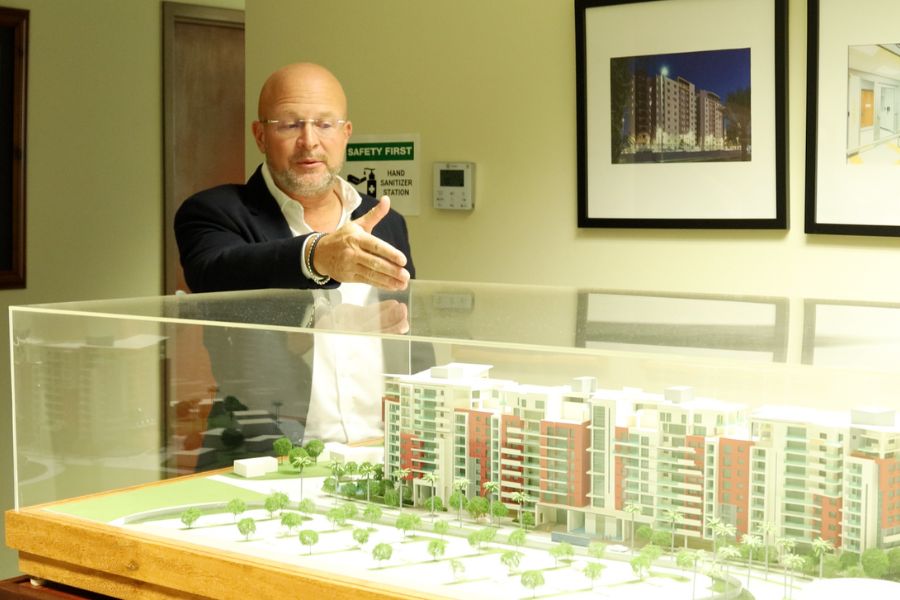 As we celebrate this remarkable milestone at DDD Group, our story serves as an inspiration to aspiring architects, engineers, and builders. Our success is a testament to the power of a clear vision, a commitment to excellence, and the unwavering dedication of our united team. In the heart of Puerto Rico, DDD Group has not only shaped physical structures but also the aspirations and dreams of a community. With constructability at our core, technology as our guide, and a passion for collaboration, the journey of our first 25 years sets the stage for an even more extraordinary future.