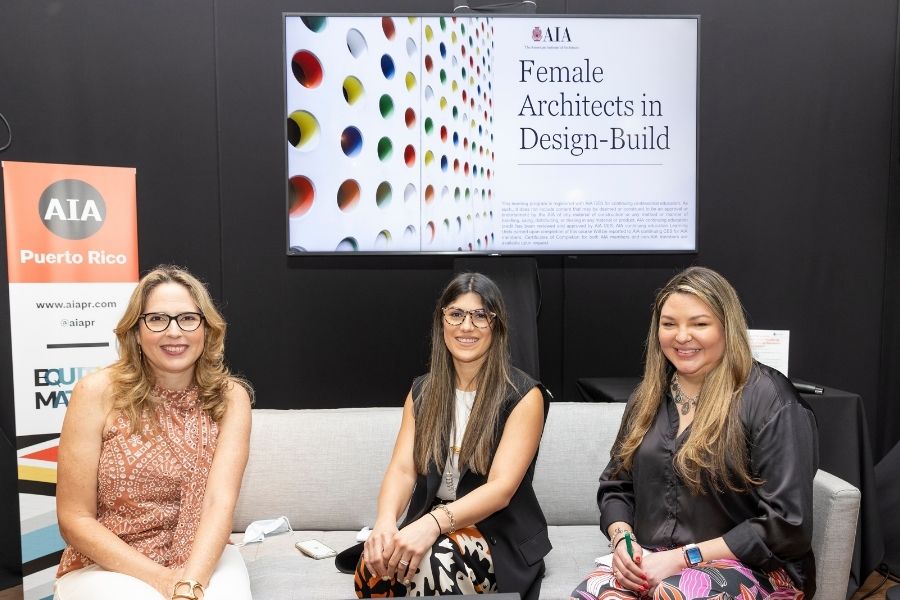 04 Apr

Our "Female Architects in Design-Build" Presentation is a Success

The brilliant female architects of DDD Group shined during an exciting week of activities at the Women in Architecture event by the AIA Puerto Rico Chapter. Alexandra Wirshing, Nicole Santiago, and Geraldine Perez presented the theme "Female Architects in Design-Build" in a conversational panel setting with the inquisitive minds that joined us on March 21st at Plaza Las Americas. The interactive presentation allowed our experts to share highlights of their extensive experience, and also respond to a lively Q&A section.

Among the topics discussed were differences between the Design-Build and Design-Bid-Build methods, their dynamics as a team made up of three women architects, the importance of diversity in the architectural profession, and how that variety enriches and strengthens a team. Just some of the many great products of their collaborative approach, the team presented two unique case studies, CBP Labs and Puerto Rico Wire, which provided design challenges that were efficiently addressed by working closely together and utilizing BIM technology. As part of their presentation, our design team explained how technology is essential in Design-Build projects to transform each space and allow DDD Group to work within a budget, on time, and obtain a final product with very satisfied clients.

The event was a wonderful experience for the team and allowed them to strengthen their own bonds while feeling satisfied that they can impart their knowledge to future generations and encourage them with amazing opportunities in the field of design and construction. Enjoy some of the moments that were captured and visit our Careers page to find out more about how you can join this outstanding team.